*** We now require one full day of daycare prior to boarding stays to prepare the dog. This helps reduce their stress so they understand they will eventually be going home, and it helps us ensure they will be safe overnight in our facility. ***
Overnight & Doggy Day Care
(Yes! Our overnight dog boarding does include doggy day care.)
While many wish they could take their dogs with them everywhere they go, sometimes it isn't feasible or simply not in the best interest of the dog. When this is the case, it is important to have a dog boarding facility that you can trust will provide your dog with the best care possible until you return.
Whether you need dog boarding services for just a single night or are going on an extended vacation, we at Zen Doggy Den in Wheat Ridge will ensure that your pup receives all the care and attention that it needs and deserves. Contact our team today for more information!
YOUR DOG'S HOME-AWAY-FROM-HOME
Our boarding facility, where the dogs sleep at Zen Doggy Den, is designed like little bedrooms. With bamboo wood floors and a similar design as a house, the dogs feel more at home than the standard industrial buildings that most dog boarding places consist of. We have mostly open-top tall style pens that we try to use for most dogs. If requested or we feel it is best, we will use traditional crates. We feel crate training is beneficial either way, as having a crate trained dog offers many conveniences. We also have impact and similar crates for escape artists or anxiety dogs.
Click Below to Tour Our Indoor/Outdoor Facility
Our Certified Dog Trainers are experts on dog behavior, so we monitor and assess where dogs should sleep based on their behavior while here. This helps to minimize stress as much as possible and keeps your dog safe during their stay at our boarding facility. Contact us today with any questions or concerns!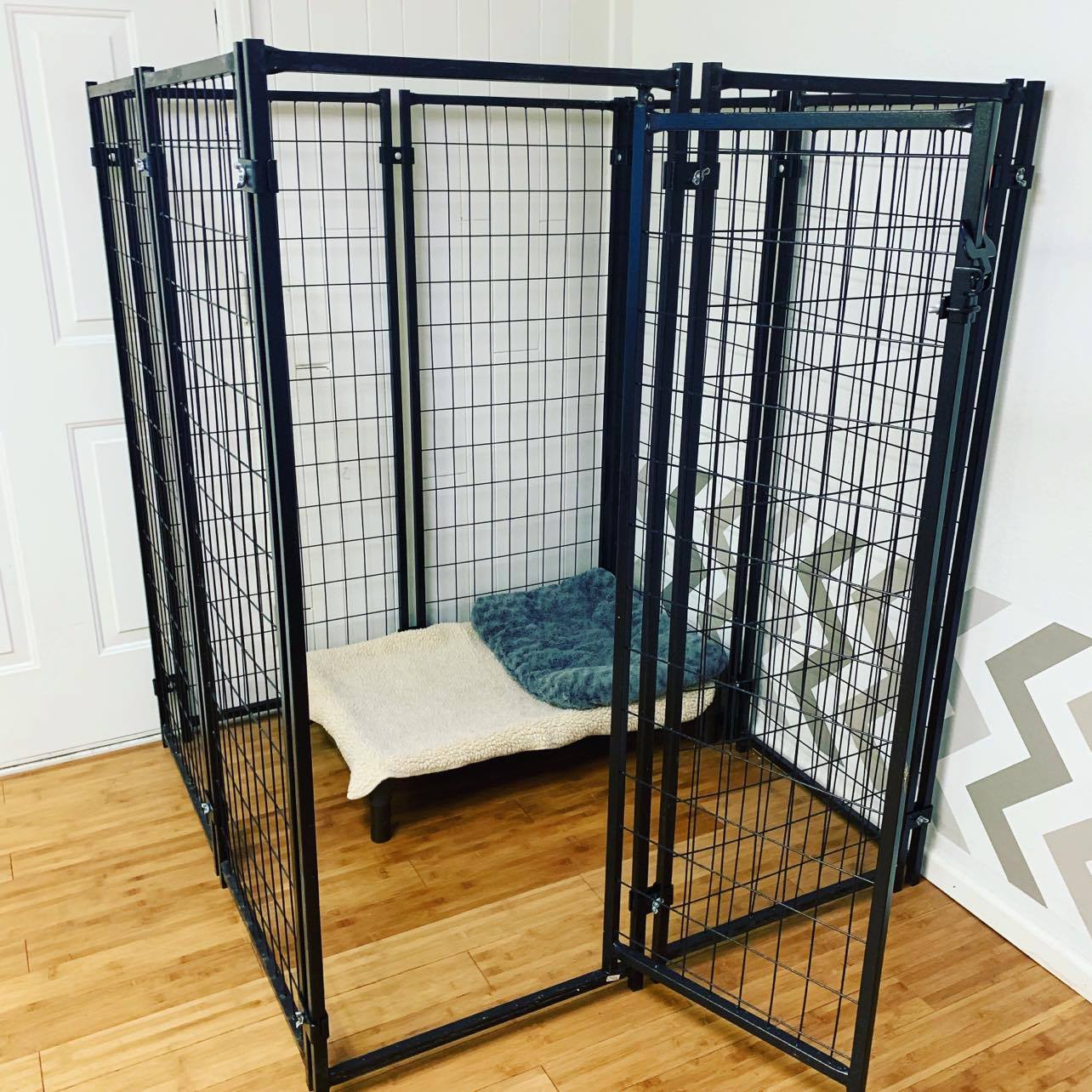 CUSTOMIZED TO FIT YOUR DOG'S NEEDS
Some dogs tend to be "people dogs" while others tend to be more of a "dog's dog". No matter what type of dog you own, we will accommodate at Zen Doggy Den in Wheat Ridge to ensure that your dog is comfortable and happy. The dogs we board have the option to either participate in small-group dog daycare with other dogs or be separated to enjoy time alone with our friendly staff members for those that are more of a "people dog". Simply let us know the details and preferences of your dog, and we will do our best to accommodate!
If your dog has never been to our boarding facility or daycare, then we often recommend a day of daycare to get them used to the environment. This allows them to know what to expect the next time, and most tend to adapt to the different environment quickly. Dogs like to know what to expect, and we think it is important for them to understand that you will return and they will eventually go back to their own home. Contact Zen Doggy Den today to get started!
DOG BOARDING SERVICES
Our staff works hard to create a smooth and enjoyable boarding process for both you and your dog. Once you purchase the appropriate boarding service, all you need to bring is food — everything else is optional. If you feel your dog will be more comfortable with a blanket or toy that they are familiar with, feel free to bring it with them. Otherwise, there's no extra charge for administering medication, playtime, or extra cuddles!
Our most common boarding service is a single night of care. Multiple of our Single Night boarding services may be purchased if you are needing a few days of care for your dog. For those that have multiple dogs, we offer discounts based on the number of dogs that will be staying together at Zen Doggy Den. Contact us today with any questions!
ZEN DOGGY DEN | WHEAT RIDGE, CO
There is no better feeling than being able to leave your dogs in a friendly environment where you can trust that they will be loved and cared for. As we mentioned above, we understand that it can be difficult to leave your dog overnight, especially for multiple nights. However, this is commonly in the best interest of the dog as traveling can be stressful and hard for many dogs.
At Zen Doggy Den in Wheat Ridge, we are dedicated to providing your dog with a place that feels safe and comfortable while they patiently await your return. With years of experience caring for dogs, our staff of certified dog trainers has studied the behaviors and needs of many different breeds with many different personalities to ensure that we are able to provide them with the best care possible. Contact our team today to learn more!