ZEN DOGGY DEN DOGGY DAYCARE SERVICES
Wheat Ridge's Best Daycare For Dogs
THE ZEN DOGGY DEN DIFFERENCE

Daycare for dogs is a great way to keep your furry friends active while you are away during the day. Instead of leaving them home alone to lie around, our certified dog trainers help to increase the dog's social levels and behavior outside of the home. Contact our staff today with questions or comments about our dog daycare services!
---
You'll find that our standards and requirements are a bit different than other dog daycare centers. At Zen Doggy Den, it is our mission to provide your dog with everything they need to flourish. Our expert staff has done extensive research on the specific environment and everyday needs of different types of dogs so that we can cater our facility to fulfill your dogs needs accurately and effectively. Contact Zen Doggy Den in Wheat Ridge today for more information!
DAYCARE AND BOARDING POLICIES
Daycare for dogs is not a replacement for training. If you expect to drop off your unruly dog so someone else can deal with it for the day, then this might not be the place for you. At Zen Doggy Den, we strive on the overall well-being of a dog's mental state and sometimes just daycare alone is not going to accomplish that. It's not just about being tired, it's about being balanced and fulfilled. High energy dogs need more than just running around crazy all day. They benefit most from a combination of mental stimulation and exercise. Our Day Training is perfect for this. Our certified dog trainer will take your dog out a couple of times throughout the day to practice obedience and manners.
Please note: We now require one full day of daycare prior to boarding stays to prepare the dog. This helps reduce their stress so they understand they will eventually be going home, and it helps us ensure they will be safe over night in our facility.
We have spacious 4×4 pens that we use for most dogs. We do still have a variety of crates as well for those that prefer it, and inescapable crates for our anxious dogs. If your dog is not used to being confined, please let us know. Many dogs do absolutely fine when it is a new environment, however, we do need to be aware of any history of breaking out or self-injury.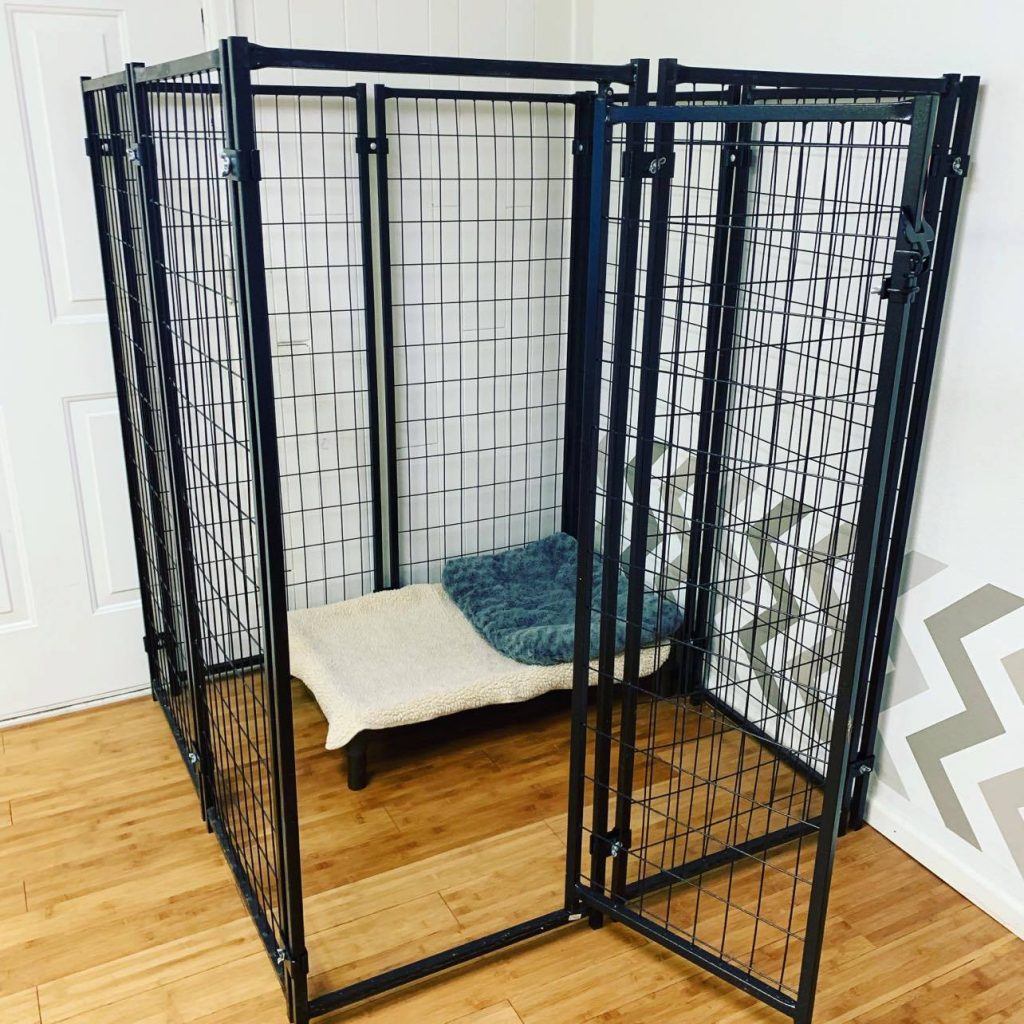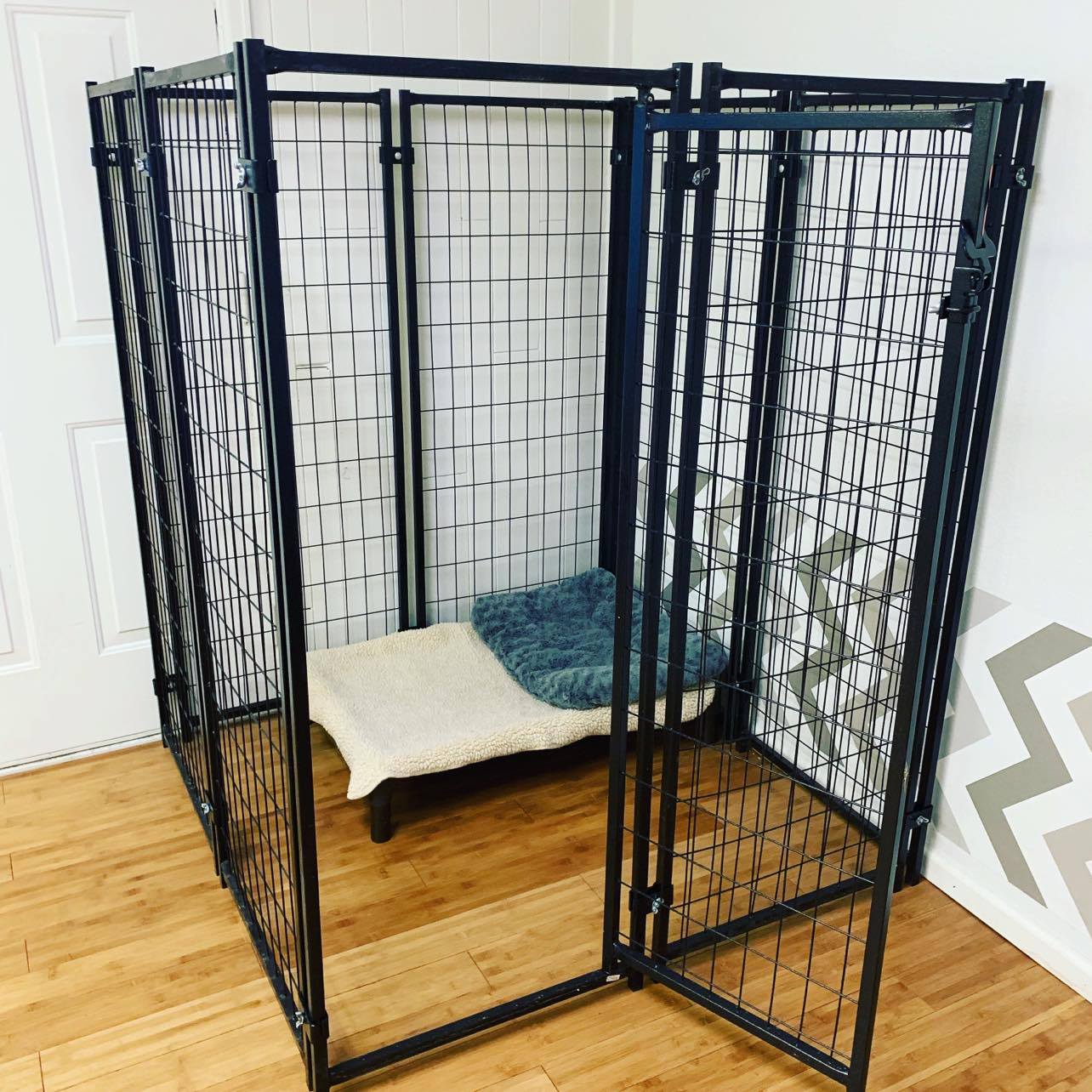 Click the Video Below for a Tour!
We Close Mid Day Now
We began closing mid day to reduce people exposure with the current pandemic, however we ended up really liking it. It allows us to have uninterrupted time with the dogs and really created a nice routine for everyone which helps keep the dogs calmer in between rotations.
No Traditional Trial Days
Instead of trial days, we just want you to begin coming! We don't feel it's fair to judge a dog after a couple of hours. It often takes multiple days for them to get used to a new routine and environment before they reveal their best selves. However, please be open with our staff if your dog has known aggression issues with other dogs so that we are able to give them and the others the best care possible. Continue reading to learn about our approach for aggression!
Shyness/ Aggression
We absolutely need to know if your dog has ever been in a fight and what the circumstances were. If your dog is shy or has a mild fear of new surroundings, there is no reason to worry. We will ease them into it to ensure they're comfortable. If you aren't sure how your dog will react to other dogs or a new dog daycare center, then we highly recommend you do training sessions with us prior to coming to daycare. Contact Zen Doggy Den today with questions!
No Spay or Neuter Requirements
More and more research is coming out suggesting that we may be wrong to spay and neuter dogs at such an early age. It also statistically hasn't done much, if anything, to help our overpopulation problem. We feel natural is the best route unless there is a problem, so we leave it up to the owner to decide when and if spaying or neutering is best for their dog. If we see a problem in daycare arising from it, we will assess and let you know if we think it's related to that.
Small Group Dog Daycare
We don't believe in large groups, ever. While many dogs do fine in large groups, as proven by other facilities in the area that have upwards of 40-60 dogs at a time, it's only a matter of time before you see behavior problems arise from this particular setting. For this reason, we separate the dogs at Zen Doggy Den into small groups of typically 7 dogs at a time and always less than 10. We introduce slowly to just a couple dogs at first and rotate them throughout the entire day. You can read more about why we do this under our protocol.
DOGGY DAYCARE WITH DAYTIME OR BOARD & TRAIN DOG TRAINING
Even old dogs can learn new tricks, and where better than dog daycare to learn simple skills that improve your dog's behavior and well-being? While we require that your dog has some past training experience with Zen Doggy Den, as soon as that is complete, our certified dog trainer will schedule a part of the daycare day to do private training with your dog to work on the specific skills your dog needs more practice on. Contact our dog trainers today for more information!
Add-On Maintenance Training
Add training sessions into your dog's daycare routine to fine-tune their obedience skills, provide them more mental stimulation, or to improve on specific skills. Add-On Day Training is great for dogs with high energy and those that are lacking training in certain areas.
Prerequisite: Dogs must complete two or more private training sessions, a beginner group class, or a board and train program through Zen Doggy Den prior to Add-On Day Training.